In today's fast-paced and ever evolving corporate world, boardrooms are where the critical decision-making and strategic planning happens. Investing in cutting-edge technology will help companies enhance collaboration, efficiency, and productivity in the boardroom. In this blog, we explore the best technologies that can be used to revolutionise the boardroom experience and ultimately drive businesses towards success.
Interactive Displays and Content Sharing
The days of old fashioned PowerPoint slides and presentations are behind us. Now modern boardrooms require meetings and presentations that can captivate audiences. Thanks to interactive displays with touch screen capabilities and digital annotation features, meeting participants will be engaged and meaningful conversations can be stimulated. Data visualisation tools take complex information and transform it into visually compelling representations, allowing board members to grasp insights quickly, facilitating data-driven decisions. Furthermore, supporting Bring Your Own Device (BYOD), it encourages flexibility and enhances collaboration, as participants can use their familiar devices to contribute to discussions.
Devices such as the Yealink WPP30 Wireless Sharing Dongle allows hassle-free screen sharing at the touch of a button. Alternatively, Poly, Yealink and Logitech VC systems all allow for a direct screen sharing solution with an HDMI cable which can be used by anyone at the table.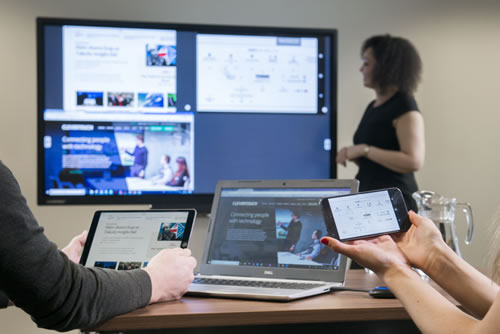 Video Conferencing
The rise of remote work has presented both challenges and opportunities for businesses across the globe. Video conferencing solutions have become a vital part of work activities by enabling seamless communication and collaboration regardless of physical location. High-definition cameras and reliable audio systems ensure that virtual participants feel present and engaged, fostering real-time interactions and facilitating connections. With the emergence of solutions such as Microsoft Teams Rooms and Zooms rooms, users are able to enjoy an extremely simple meeting process in just a few clicks. These solutions are fool proof, allowing users to join meetings with just one touch, scheduling new meetings easily and sharing content into those meetings seamlessly. This enables collaboration between those in the workplace and remote, in a way that was previously not possible. To facilitate seamless teamwork, businesses are turning to collaboration software and tools. These platforms encompass project management, file sharing and communication tools, streamlining workflows and enabling real-time document editing and sharing. With everyone on the same page, board members can make decisions more efficiently and effectively.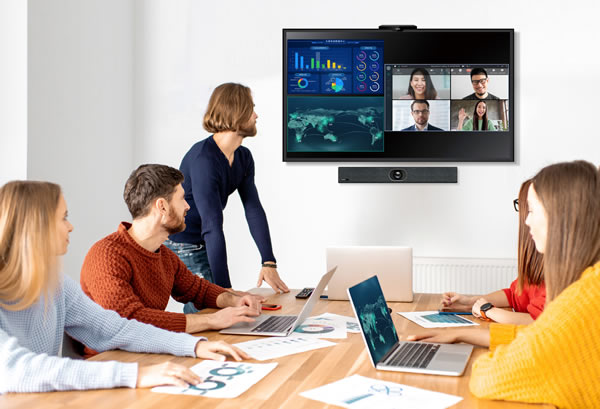 Room Booking Solutions
The management of meeting spaces has become paramount for maximising productivity and enhancing the overall efficiency of a company. By introducing cutting-edge room booking technologies into your business, such as GoBright and Evoko, it brings an array of invaluable benefits. These solutions revolutionise the way organisations schedule, utilise, and optimise their meeting spaces. Employees can effortlessly locate and secure suitable spaces for their meetings and receive real-time updates on room availability reduce conflicts and eliminate time wasted searching for vacant spaces.
In conclusion, the boardroom is much more than four walls and a flipchart. Embracing the best technologies, can help your business to improve collaboration, efficiency and productivity, which will boost your businesses at the forefront of innovation. As companies are always adapting and evolving, the boardroom will continue to be the hub of strategic decision-making and technology will remain a driving force behind their success.